STPs began the process of bringing local partners together to work collaboratively towards a shared vision which delivered the triple aim priorities of better outcomes, experiences of care and use of resources. As localities now begin their journey to integrated care, the system must go beyond formal collaboration to truly shared accountability across the local health economy, as envisaged in the NHS Long Term Plan.
With a proven expertise in bringing together health, social care and the public to transform services, Arden & GEM is able to support your journey to integrated care at each and every stage.

Developing the capabilities to deliver integrated care
The move to integrated care is complex. For this transition to work successfully, we have identified four key areas of capability that are required to support delivery. By creating the right environment, developing the right infrastructure and engaging with the wider community, health and care systems can meet their collective goal of delivering best possible health outcomes.
System leadership and behaviours
Creating an environment for successful collaboration based on effective leadership, appropriate behaviours and a culture that support continuous improvement.
With experience of bringing people and organisations together to work collaboratively to achieve a shared vision, our support includes:
Co-production events for strategy development and stakeholder ownership
Collaborative relationship building across services, providers and sectors
Organisational development to support system change
Exploring organisational risk appetite and scenario exercises
Senior recruitment and board development.
System design and governance
Developing an infrastructure for collective decision making and governance that delivers shared accountability and improved performance.
We have built upon our experience, in supporting local health economies to agree and develop formal integration and joint accountability, to offer:
Establishing inter-organisational agreements around risk sharing and Memorandum of Understandings
Whole system, activity and financial modelling
Triangulation of data underpinned by robust management and information governance arrangements
Development and specialist procurement of innovative contracting models including alliances, integrator, lead provider and outcome based
Developing outcomes frameworks, attributable output metrics and managing system performance.
Empowered citizens and communities
Improving prevention and shared decision making through engaging with and activating patients and populations.
We can support you to empower communities to engage in the design of healthcare provision within their local area and to help individuals to take greater responsibility for their own health through:
Public engagement and involvement including innovation and co-production events
Shared decision-making
Behaviour change driven through award-winning social marketing and nudge tools
Digital enablers such as remote monitoring and self-care applications.
Reimagined care
Transforming care, through new models and methods of delivery, to improve both quality of care and health outcomes.
We have proven, award-winning approaches to designing, developing, testing and delivering cost-effective care models which have been deployed across a wide customer base, including:
Patient pathway/service redesign
Population health analysis, population segmentation and risk stratification
Digital diagnostics and therapeutics strategies
Change models and tools including logic models, evaluation frameworks, rapid cycle improvement and Lean.


Creating a roadmap for the transition to integrated care
We recognise that all health systems have their own unique challenges and have designed our methodology to respond to these challenges with tailored support. Our methodology embraces three phases – Discovery, Development and Delivery – intended to ensure fledgling Integrated Care Systems move from initial shaping and strategic planning to clearly articulated transformation and implementation of a robust operating model. 
These phases can be used to support development of any of the capabilities above, or to provide a more holistic approach to bring existing ambitions and transformation programmes into alignment with new systems and organisations – creating a clear roadmap for the future.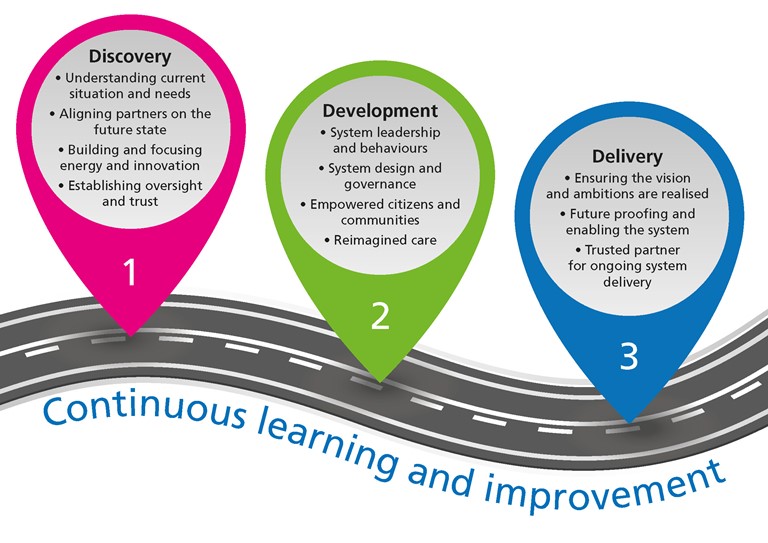 Our strong background and passion for integrated working across the social care, voluntary, community and health sectors makes us your ideal strategic partner. We can help you to build an Integrated Care System which focuses on prevention, personalised care and innovative, collaborative new models for the way that health services are provided.